PartnerSec's ecosystem of cloud-based systems from access systems to visitor systems is built to revolutionize and modernize a corporate work environment through innovation, communication and integration.
Eliminate overhead costs and minimize administration when you streamline processes and provide tenants with self-service tools that simplify their stay.
Cloud based Access control, Visitor system and Evacuation system
Physical Security is on the agenda of all companies today. And the questions are many. How do we know the right people are at the facility? And how many? Who are employees and who are visitors? Which cars can park in our car park? What happens when the fire alarm and evacuation alarm go off? Who is Responsible?
PartnerSec APV is a cloud-based platform that provides answers to these questions. "A" stands for Access which is a access control system, "P" for Payment which is a payment system and "V" for Visitor which is a visitor management system. With a unified platform, not only the facility but also all employees and visitors are secured.
Cloud based security for Enterprises
Cloud-based Access control, Visitor System and Evacuation System
Our unique and innovative approach to access control works seamlessly with mobile devices so tenants and end users can use their phones as key cards to open doors.
To make the transition easy, all card readers also support key cards and tags.
Automatic Visitor Management
The visitors are automatically invited into the automatic visitor system. There, they themselves can register their car in advance, approve the GDPR & NDA agreement in advance, while receiving a QR code that helps them during check-in.
Your business is only as professional as your visitors' first impression of it.
Let PartnerSec APV help you create the world's best first impression by managing professional processes that communicate your company's vision and guide visitors to the right place at the right time.

Automatic Evacuation of visitors and employees
The evacuation system is an automatic system for evacuation that sends personalized messages to all people in the facility with self-service links where they update their own evacuation status as well as attached instructions and interactive maps.
The cloud-based evacuation system is safe, simple and easy to use regardless of how many buildings or facilities you want to secure.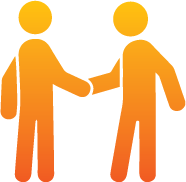 The Worlds Best First Impression™
The cloud-based visitor system helps each tenant convey their vision and graphic profile to each visitor using the built-in design features that ensure each guest is handled professionally.
We help our customers give their visitors and employees the "wow!" effect on every visit.
With or without reception?​
A receptionist today is rarely a pure "receptionist" but more of an Office Manager. An Office Manager is a person who is responsible for the practical operation of the office. They organize everything from coffee, conference rooms, mail and delivery, cleaning services and not least visitors.
CavVisit offers multi-tenant businesses to fully or partially automate the reception. Some businesses require staff presence at the reception due to internal routines, identity checks and the like.
Many customers want to partially automate visitor management and use CavVisit as support for reception operations. Then the system is set according to those wishes.
Other properties want to fully automate the reception and visitor management, and then we provide the services that help with that.
All features in One Platform​
The PartnerSec APV platform gives the business the tools to create a safe and welcoming workplace. The staff use modern tools to enter the workplace and visitors are handled professionally and automatically.

With the help of modern technologies such as APPs, QR codes, SMS, Email, REST API and much more, the APV platform takes your business to the next level.
If you choose PartnerSec, you make the right choice
Modern cloud-based systems, integrations that automate, email and SMS, encrypted data, mobile APPs, QR codes, market-leading support and service, and more than 100 years of combined experience in IT and security systems.
Contact us now and we will help you find the best solution for your unique needs.